7th February 2023
Prime Minister Mark Brown held a bilateral meeting with Japan's Prime Minister Fumio Kishida in Tokyo earlier today, separate to a subsequent meeting he had with PM Kishida as part of the Pacific Islands Forum (PIF) high-level talks. PM Brown also held bilateral talks with Japan's Ambassador to the Cook Islands resident in New Zealand, Ambassador Koichi Ito, and Foreign Minister Yoshimasa Hayashi, in advance of the bilateral meeting with PM Kishida.
"As I'd hoped, the in-person discussions with Prime Minister Kishida allowed for an open exchange on a range of issues including rebuilding our economies, improving air and sea links, improving access to concessional finance, sustainable oceans, climate change action, people to people exchange, renewable energy, technology, tourism and trade," said Prime Minister Brown.
"I was pleased to be able to express to PM Kishida our gratitude for Japan's ongoing support to the Cook Islands' development, including through its unique grassroots grant funding program which has enabled community-driven development in health, education, community-based fisheries, agriculture, and renewable energy on Rarotonga and the Pa Enua for well over a decade."
In discussions, PM Kishida expressed Japan's interest in considering future support for the Cook Islands in other areas, including inter-island connectivity and renewable energy conversion. PM Brown proposed the development of a bilateral development cooperation arrangement to support the deepening of Cook Islands-Japan cooperation and officials are expected to progress the development of the arrangement in the coming months.
PM Brown raised with PM Kishida the Cook Islands high-income status classification, as assessed by the OECD, as now prohibitive to the Cook Islands access to traditional lines of concessional finance from bilateral partners as well as multilateral financial institutions.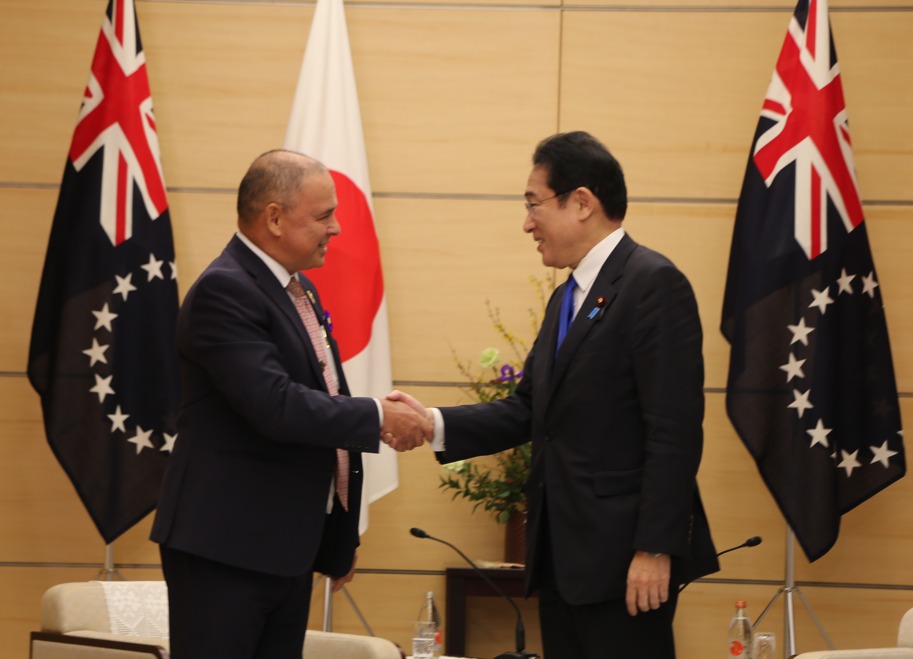 "As relate to development co-operation, successive Japanese Governments have had a long and positive partnership with the Cook Islands and members of the Pacific Islands Forum (PIF)," said Prime Minister Brown. "Further, Japan continues to be an influential player in international multilateral financial institutions, including the Asian Development Bank and the World Bank. As such, it is within our interests that Japan have a current and deep awareness of the opportunities and challenges confronting the Cook Islands and Pacific governments and economies as we work to rebuild our economies."
"I was particularly pleased to be able to relay in person to PM Kishida our concerns regarding Japan's planned Advanced Liquid Processing System (ALPS)-treated water stored at the Fukushima Daiichi Nuclear Power Station into the Pacific Ocean and to request deferral of Japan's planned discharge until we have a deeper understanding of the implications of the release," said Prime Minister Brown. "I was heartened by PM Kishida's assurance of continued commitment to ensuring the planned discharge would not harm the health of Pacific and Japanese people, nor the ocean. I look forward to further dialogue between the Government of Japan and the PIF in the coming weeks so we can ensure the ongoing health and well-being of our Pacific Ocean and people. I have committed to reporting back my discussions with PM Kishida on the ALPS issue to PIF Leaders when we meet later this month in Suva to determine next steps."
The two Prime Ministers also discussed the 3-yearly meeting of Japan and Pacific Leaders (PALM) which sets the framework for Japan's co-operation with the Pacific Islands Forum (PIF).
"I look forward to working closely with PM Kishida and PIF Leaders leading up to the 10th PALM to be held in Japan next year, where I will, together with PM Kishida co-chair the 10th PALM meeting. The PALM agenda has evolved over the years and I welcome PM Kishida's expression of support for PIF regional priorities as expressed in the 2050 Strategy for the Blue Pacific Continent which will feature prominently at the 10th PALM," said Prime Minister Brown.
The triennial PALM was established in 1997, and last met in 2021. The final declaration of the 9th PALM, held in July 2021, is available here https://www.forumsec.org/.../leaders-declaration-japan.../