21st July 2023
Rarotonga, Cook Islands, 21 July 2023 - Cook Islands Prime Minister and Minister of Foreign Affairs and Immigration (MFAI), the Honourable Mark Brown, along with Government and MFAI officials met with Special Envoy (SE) of the Foreign Minister of the Republic of Korea, Dong-Man Han and his delegation in Rarotonga this week.
This week's talks follow discussions between Prime Minister Brown and the Republic of Korea President Yoon Suk Yeol within the margins of the first Korea-Pacific Islands Leaders' Summit held in Seoul in May, which was co-chaired by Prime Minister Brown and President Yoon.
"I welcomed the opportunity to meet with SE Han and his delegation during his first official visit to the Cook Islands where we had fruitful discussions," said Prime Minister Brown. "This week's discussions were an opportunity to share with our South Korean counterparts the Cook Islands perspectives on a number of different topics and navigate the way forward between our two countries."
During bilateral discussions, Prime Minister Brown and SE Han discussed priority cooperation areas, including support towards the Cook Islands' economic recovery, the Cook Islands' graduation to high-level income status, renewable energy, fisheries, climate change, sea-bed minerals, tourism, air connectivity, regional security and stability, and the Cook Islands' hosting of the Pacific Islands Forum.
SE Han was accompanied by the Republic of Korea's Ambassador to the Cook Islands resident in Wellington, Mr Chang-Sik Kim, senior officials from the Korea Institute of Ocean Science and Technology, and officials from the Korea Embassy in Wellington.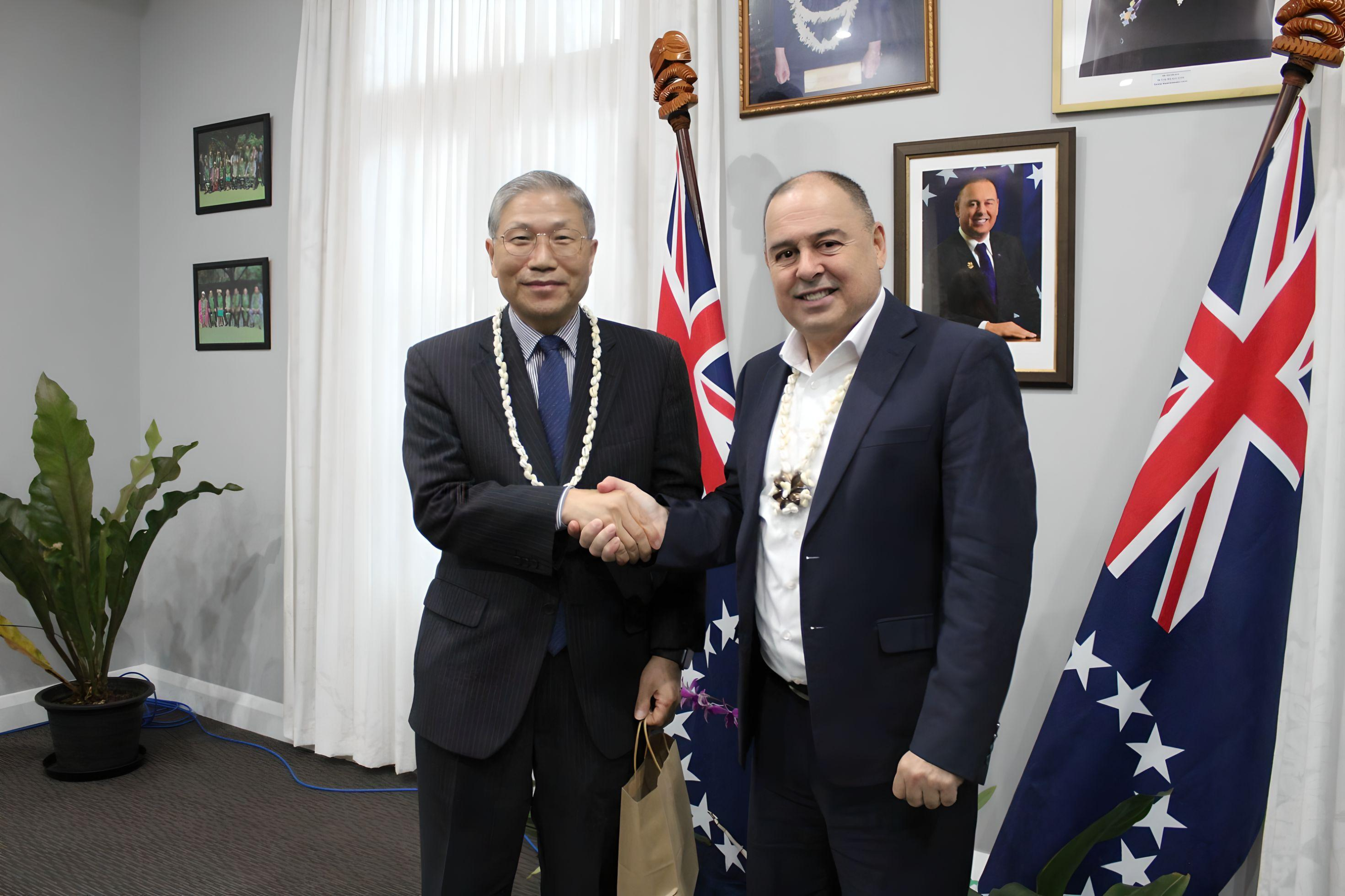 During his visit, Special Envoy Han and his delegation also met with Special Envoy to the Pacific Islands Forum (PIF) and Secretary of MFAI, Ms Tepaeru Herrmann.
Special Envoy Herrmann, on behalf of PIF and Young-Sam Choi, Deputy Foreign Minister on behalf of the Republic of Korea, co-chaired the preparatory meeting for the inaugural Korea-Pacific Islands Leaders' Summit held in May.
"The Cook Islands greatly values our close partnership and engagement with the Republic of Korea, which is a long-standing and important dialogue partner to the Forum and a crucial development partner to the Pacific Islands region," said Secretary Herrmann.
"This visit by SE Han allowed for discussions on past and current areas of cooperation and ways to further deepen engagement in economic recovery and access to finance, climate change and disaster risk and resilience, ocean governance, maritime affairs, and fisheries, as well as people-to-people exchanges and cooperation in the international and multi-lateral fora."